The uTorrent installer for Windows is only a couple of megabytes. Ease of use, powerful features and a simple interface have made it the most popular torrent client on PC. The program does not require any initial configuration, and to start the download, click on the torrent file and select the location where you plan to save it. In a few seconds, uTorrent will begin downloading, and when it's finished, it will notify you with a pop-up notification.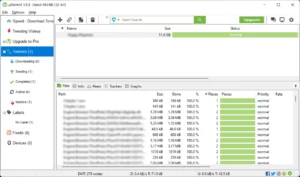 The interface of uTorrent for Windows is typical for such programs. The list of downloads occupies the central area of ​​the client window. All download-specific settings are located in the drop-down menu. Here you can set the priority for each torrent, limit download and upload speeds, pause or resume downloads, open a folder with downloaded files, and so on. The client can sort downloaded content by the download end date, size, rating set by other program users and other parameters.
You can familiarize yourself with the capabilities of uTorrent for Android devices, download the application installer files or install it from Google Play on this page.
| | |
| --- | --- |
| Author: | BitTorrent, Inc. |
| Homepage: | utorrent.com |
| License: | Adware |
| Updated: | September 8, 2023 |
| Latest Version: | 3.6.0 Build 46896 |
| Available languages: | English, French, German, Italian, Polish, Portuguese, Russian, Spanish, Turkish, Ukrainian… |
Download
Below are the links to download uTorrent for Windows for free. In addition to the latest version, there may be links to download previous versions. Choose the distribution you need and download it. All links are direct and checked for malicious inclusions.
What's new
Previous versions
Installation
Download the uTorrent installer for Windows and run it. The installation wizard window will open. Carefully read the content of each of the following messages and click the "Next" button. Accept the terms of the license agreement and decline the installation of the affiliate software. Also, here you can configure some options – familiarize yourself with each and turn off the ones you don't need. After that, the program will be installed, and you will be prompted to run it.
To install the language pack, download it, extract it and place the utorrent.lng file in the program folder (usually C:/Users/USER/AppData/Roaming/uTorrent, where USER is the current user). Then select the desired language in the uTorrent settings and restart the program.